"We're here to put a dent in the universe" – Steve Jobs
At Shamblehurst Primary we are developing a curriculum to be proud of. Through our curriculum, we aim to achieve our school tag line of 'Together We Can'. We aim to do this by enabling our children to understand their impact on the world through their actions and understand that by working together they can become educated citizens who achieve well in life beyond Shamblehurst.
Our curriculum gives children the opportunity to engage with critical audiences at a local, national and global level.
Alongside this curriculum, children are given opportunities to learn outside and show an awareness of their impact on the wider world. Children have opportunities to be mindful, to appreciate the great outdoors, whilst collaborating and problem solving alongside their peers.
We are a Bronze accredited school for Global neighbours and will be working towards our Silver and Gold awards over the next few years.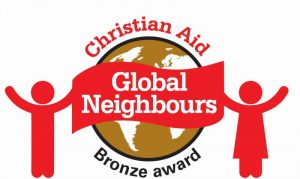 Should zoos exist? (Year 1) responsibility, belonging, sustainability, care
Is everything always as it seems? (Year 2) belief, identity, truth, judgement
Survive or thrive. Which is best? (Year 3) responsibility, care, thrive
How differently do people see the world? (Year 4) beauty, diversity, value, freedom
Does the punishment 'EVER' fit the crime? (Year 5) fairness, democracy, justice, rights, consequence
Does everyone have a voice? (Year 6) choice, discrimination, justice, free-will
Summer Term 2021 – 2022 
Year 6 – Curriculum Map
Half-Termly Curriculum Letters 2021 – 2022